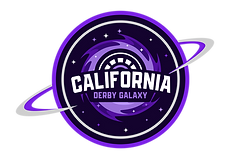 CALIFORNIA DERBY GALAXy
---
FREQUENTLY ASKED QUESTIONS
Questions asked by individuals who are members of our participating leagues, answered by CDG leadership.
HOW DID THE COALITION START?
Four friends from different leagues were chatting one day about reimaging derby in the area and what that would look like. BB Basher (coach), Sinna (coach), TKO (skater), and Wrecks (skater) came up with the ideas behind the Coalition.
From there, the four authors reached out to Dottie Damage and Bones at the WFTDA to discuss their ideas. Bones and Dottie expressed strong support from the WFTDA for the Coalition proposal, and connected the authors with the organizers of BritChamps, Sticks&Stoker (official) and Valx (skater). With the reviews and guidance of Sticks&Stoker and Valx, as well as Ana Cheng (skater) of Atlanta Roller Derby and Saikou (skater) formerly of Santa Cruz Roller Derby and Atlanta Roller Derby, to add additional context, expertise, and perspective, the authors of the California Derby Galaxy proposal drafted the initial pitch over several months, finally culminating in a presentation to the leagues in March of 2021.
WHAT IS THE ROLE OF THE COALITION?
The Coalition has two parts:
A unified game schedule and seasonal tournament for participating local leagues.
A unified WFTDA charter of high level skaters from all participating local leagues.
WHAT LEVELS CAN BOUT?
ALL Levels! The Coalition will structure the game schedule to have Tiers for each team's skill level.
HOW MANY TEAMS WILL THERE BE?
Each participating league can create as many teams at each skill level that they want. Skaters may only skate on one team.
WHAT TRAINING OPPORTUNITIES WILL THERE BE FOR LOWER LEVEL SKATERS?*
The California Derby Galaxy coaches will be sharing practice plans and each participating league will make some practices and scrimmages open to any skater in the coalition.
*Mixed league practices and scrimmages are pending based on RTP/COVID-19 recommendations.
HOW ARE SKILL LEVELS DECIDED?
The WFTDA has issued a new skater curriculum. Each league would be asked to use this to evaluate their skaters on the IEDP spectrum. Based on the number of skaters at each level, CDG could work out how many teams at each level there will be and design the season game schedule accordingly. If necessary, teams could be sorted into tiers via a series of placement bouts/scrimmages before the season begins. Further adjustment for proper-level play is possible via promotion or relegation to a new tier based on a team's results every season.
DO SKATERS HAVE TO JOIN THE SUPERNOVAS (CDG CHARTER) TO COMPETE INTERNATIONALLY?
No. Each league may maintain their current WFTDA charter. Skaters may only be rostered on one WFTDA charter per season.
HOW WILL CHARTER SELECTION WORK?
The Charter athletes will be selected by a team of coaches composed of a representative from each participating league. Outside evaluators may also be brought in at the request of this group of coaches. These coaches will select athletes based on their level of skill and not their league of origin.
HOW WILL CHARTER PRACTICES WORK?
This hasn't been explicitly decided yet, however initial ideas are to have the Charter practices and scrimmages rotate between participating leagues each week.
HOW WILL THE COALITION MAKE SURE THAT EACH LEAGUE PARTICIPATES EQUALLY?
The goal is not for each league to participate equally but for each league to provide the amount of support possible for the members of their league. Some smaller leagues have less resources than the larger leagues. The goal of the Coalition is that if we pool resources we can help the smaller leagues grow and reduce work for all the leagues, while simultaneously providing more skating opportunities at more levels for all of the participating league's members.
HOW IS THE COALITION FUNDED AND WHAT ARE THE FUNDS USED FOR?
While no details are final, CDG plans to receive funds from a combination of league membership fees and/or a percentage of profits from bouts and fundraising. The funds will be used to pay for the business expenses, the end of season tournament, the Supernovas team costs, and the equity programs.
WHAT IS THE EXPECTED TIMEFRAME FOR THE COALITION?*
Participating teams will be asked to sign on for a one year/season term and to renew participation annually.
*Activities are pending based on RTP/COVID-19 recommendations.
HOW WILL DISPUTES BE HANDLED?
CDG Leadership is writing a Grievance Policy. Participating leagues will be expected to follow the policy. The BOD will be the group that handles submitted grievances. If you have experience with grievances and would like to be involved in the crafting of this policy, please reach out to us at [california-derby-galaxy-leadership@googlegroups.com]
HOW MANY PEOPLE WILL BE ON THE CDG BOD?
The CDG BOD will be composed of the authors and one representative from each participating league. The current representatives are: Tifa Knoxhard (author), Wrecks (author), Sinna (author), Sheracuda (PRD), Flower Power (SantaCruzRD), Sour Ranger (SonomaCRD), Hunt-Her Pants (URD), SpringKills (SOS), Hitts (CQS).
WHERE WILL THE GOVERNING DOCUMENTS BE LOCATED?
The governing documents will be posted to a Google Folder and shared with all participating leagues and their members.
WILL THERE BE REGULAR CDG MEETINGS?
Yes. Regular meetings for the BOD are required by CA state law. Frequency and location of meeting is yet to be determined. Due to the locations of the participating leagues, the CDG BOD anticipates these meetings to continue to be virtual and on a monthly basis or more often as needed. Meetings open to each participating league's members may happen in the future. Meeting notes will be made available to all participating league's members via the Google Folder and may be discussed or presented by the league representatives to their individual league at their own cadence and based on their league's desires and needs.
HOW WILL THE CDG LEADERSHIP COMMUNICATE WITH PARTICIPATING LEAGUE MEMBERS?
CDG Leadership will not communicate directly with general participating league members. The Coalition will communicate with participating league representatives, coaches, officials, and Supernovas skaters via Discord and email. The participating league representative will communicate information to their leagues.
HOW DOES A LEAGUE LEAVE THE COALITION?
Leagues may leave the Coalition by not rejoining during the annual renewal. Participating leagues are asked to sign on for an entire season. Leaving mid-season would be extremely difficult on staff to reorganize the game schedule and resources. Fiscal penalties for leaving mid-season are being discussed.
WHAT ARE THE PRACTICE TIMES AND THE LEVEL OF COMMITMENT?
Practice dates and times are set by each participating league. The level of commitment for local or regional play is up to each skater.
DO I HAVE TO TRAVEL TO OTHER LEAGUES FOR PRACTICES?
That depends. If a skater is only interested in local play or their home league WFTDA charter, then no travel to other practices is necessary. If a skater is interested in the Supernovas then they will need to travel to the locations of those practices.
HOW DO LEAGUES BALANCE HOSTING CDG PRACTICES AND LEAGUE PRACTICES?
1. Leagues are asked to open one practice, with their coach/training, for any coalition league member to drop in and participate at.
2. Leagues are asked to allow the Coalition charter to bring their trainer/coach to one practice per month to run their own session. This can be alongside a league practice or a completely separate session, depending on the resources/desires of each individual league.